Everything You Need For Success on a Pump and CGM
Pumping Insulin gives a complete guide for achieving excellent glucose on a smart insulin pump and CGM. Pump users and health professionals will benefit from comprehensive, and easy-to-use information on bolus calculators, settings, infusion sets, and data. Get the most out of your pump!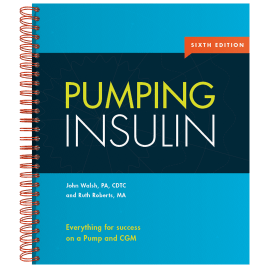 New chapter on CGMs and pumps. Updated chapters on pumps specific to children and teens, pregnancy, exercise, and Type 2's. Over 185 useful tables, figures, and examples. How to use software downloads and logbooks to spot patterns and improve control.
by John Walsh, PA, CDTC and Ruth Roberts, MA
7 3/8″ x 9″, 254 pages, Over 185 helpful tables, figures, and examples
Only $19.95
Order:
Order Securely Online or
call (800) 988-4772, 011-1-619-497-0900
In this book, you'll find:
Simple ways to find your TDD (total daily insulin dose)
How to spot and stop unwanted glucose patterns
How to maximize CGM benefits
Meds that help stop glucose spikes
Carb counting with over 300 carb factors
Over 150 useful tables, figures, ideas, and examples
Plus…
Pumping for children and teens
Pumps for Type 1.5 and Type 2
Safe ways to stop high and low reading
How to use all the smart features, including bolus calculator, duration of insulin action, & bolus on board
---
Praise
"A great book is one you keep at your bedside to pick up, turn to a page, and always learn something inspiring. This is PI6! I especially like the guideline of never accepting frequent highs or lows or erratic readings. Just make adjustments!"
"Pumping Insulin will measurably raise your diabetes IQ and lower your A1c. It distills extensive professional knowledge and personal experience of advanced diabetes care into bite-sized wisdom available nowhere else"
"This 6th edition provides updated tools for patients and professionals interested in insulin pumps and CGM therapy. It is well organized and full of practical tips to help pump wearers and their diabetes care team achieve and maintain optimal blood glucose goals."
---
About the Authors
John Walsh, PA, has provided clinical care to thousands of people with diabetes in various clinical settings. He is the author of or coauthor of hundreds of diabetes articles and books, a thought leader in diabetes technology, and a popular presenter on diabetes topics to physicians, health professionals, pharmaceutical companies, and people with diabetes. His various PowerPoint presentations are available on our site. He consults and sits on the Advisory Board of several pharmaceutical companies. John also conducts research on how insulin pumps are used to assess the quality of diabetes education and the ease, convenience, and effectiveness of pump features as well as assessing continuous monitors and their effectiveness. He is considered an authority on intensive diabetes management. John also works at Advanced Metabolic Care + Research (AMCR). AMCR is recognized as one of the leading endocrinology centers in Southern California.
Ruth Roberts, MA, is a medical writer, editor, and educational consultant on intensive self-management. She has been involved in diabetes support groups for over 20 years and has co-authored several books on diabetes. She is a professional member of the American Diabetes Association, has served on the Board of Directors for the International Diabetes Athletes Association. She manages business matters and product development for the company. Her expertise in presenting complex information in a clear, easy-to-read format benefits our publications. She worked for 20 years in academic teaching and corporate training before developing the company.
Visit our Pump Comparison page or take a look at each pump.